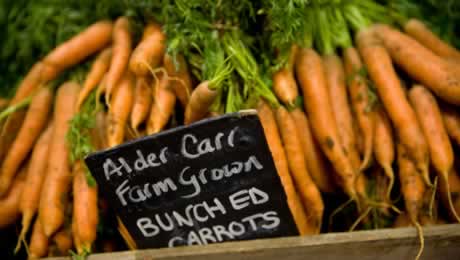 Alder Carr Farm has been established since 1981, and is home to a fantastic farm shop, cafe, plus several gift, arts, and craft stores.
The farm shop stocks a large variety of fresh local produce, plus a range of fair trade, vegetarian, and vegan products. They also sell kitchen and bathroom essentials, including no-packaging refills. A treat not to be missed is their multi-award winning ice-cream, Alder tree, made on the farm using simply fruit, cream, and sugar.
The Barn Cafe serves breakfasts, light lunches, sandwiches, cakes and hot drinks all day. All of their dishes are made from scratch, and where possible using produce grown locally or from the farm.
After visiting the shop and a bite to eat in the cafe, complete your visit to Alder Carr Farm with a short walk around their farm nature trail; past the grazing farm animals, and then through fields, wet meadows, and woodland. Please note, unfortunately dogs are not allowed on the farm nature trail.